---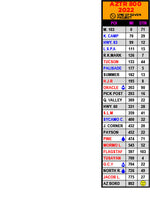 2022 AZT 800 MILEAGE STICKER
Simple top tube stickers with key points of interest, with distances between points, water sources and which POIs are on/off course. All the info you need, no pulling out your phone or a piece of paper. Just one sticker on your top tube!
Mileage is rounded to the closest number and stickers match information found in our Arizona Trail Data Sheets, Town List, and Mileage Chart.
 IMPORTANT PLEASE READ
1).  I do not have time to have these made and then ship them out to individual customers. As a result, Jason Hanson who is racing this year will hand them out at the start. Please find Jason at the start or listen for his announcement.
2.) I only made 20 so get yours fast!
KEY
POI = Point of Interest
MI = Mileage Number
DTN = Distance to Next
COLOR KEY
Black Text = On Course
Blue Text = Water Source
Red Text = Off Course
Red Text with Water Drop = POI is Off Course, Water Source at that location On Course
Water Drop with x4 = Indicates theres "x" number of water sources between POIs.